//=$containerClass?>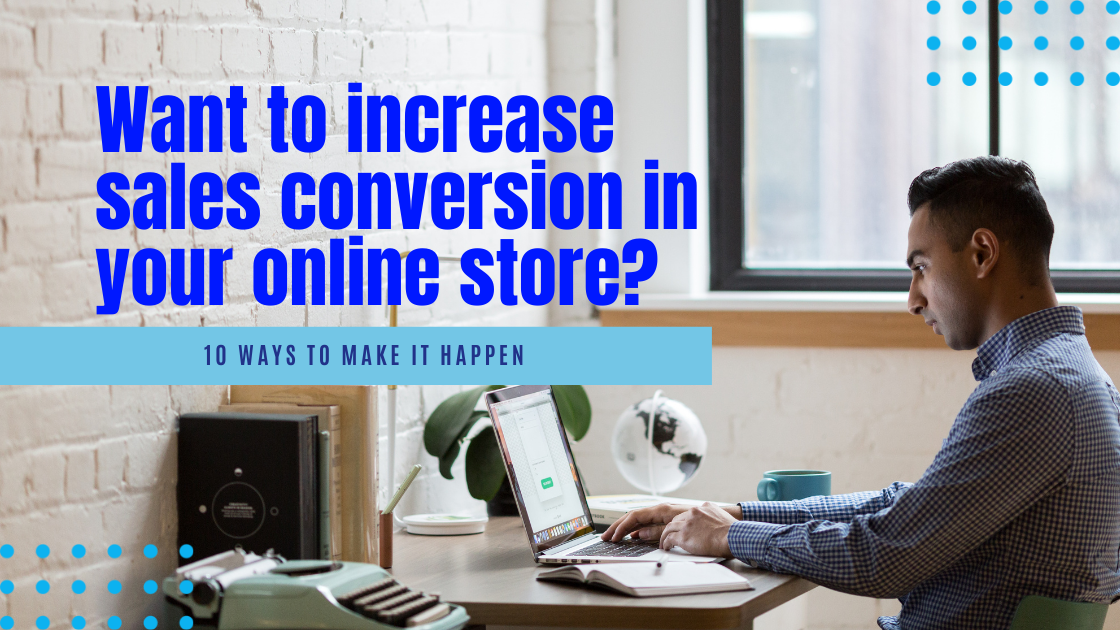 10 Ways to Increase Sales in Your Online Store
10 Ways to Increase Sales in Your Online Store
Every business owner wants to increase sales. And that is right. Because increasing sales is the key to a successful business. Whether you are running a small Etsy shop or a large Shopify store, it is always important to make more and more sales in order to gain top positions.
Maybe you have already tried all the methods you know, but nothing came of it. Or you came here hoping to find an answer to the question why after a lot of sales suddenly you experience a huge drop. Perhaps you are missing some major aspects that directly affect your sales. And we are going to explain it and answer to all of your questions here.
In this article, we have prepared 10 ways to increase sales in your online store.
1. Create a Perfect Sales Copy
If you want to create the most compelling sales copy, use the following tips:
Describe the benefits of your product - why are your products better than the competition?
Answer to all questions your customers might have about your product, use their struggles, and solve their problems.
Never lie in your sales copy. People can see through deception. Moreover, honesty encourages trust in your brand and is crucial to your business' reputation.
2. Use High-Quality Visual Content
Always pay attention to the visual content in your online store. Using good visual content improves conversion rates. Because high-quality images and videos with vibrant colors are eye-catching. In fact, colors affect the subconscious. Study color psychology and use it to your advantage when creating images and videos.
3. Display Customers Testimonials
It is great if you already have positive customer feedback. Use it to show others that you can be trusted. Positive reviews from satisfied customers assure potential customers about the quality of the product.
4. Do Not Forget About Keywords and Tags
Do not forget to use keywords and tags in your listings. It helps to improve your search ranking. Use online SEO tools like Erank, Helium 10 and etc. to find keywords.
5. Create a Sense of Urgency
Now or never! Sometimes you can use it to persuade prospects to buy from you right now. Create a limited product offer or offer discounts and free shipping for a particular period of time to boost sales.
6. Battle Shopping Cart Abandonment
Many eCommerce platforms (e.g. Shopify) offer cart abandonment tracking services to their users. The system is simple. You receive the information (which they entered before leaving) about those who abandoned their shopping carts, and you can create follow-up emails to retarget these prospects.
The shopping cart abandonment software will not only help you get customers back, but it will also help you figure out what you need to improve. Do not neglect using such software.
7. Optimize for Mobile Devices
It is no secret that these days people are more likely to use mobile devices than laptops. According to Insider, 44 percent of US e-commerce sales take place on mobile devices. Imagine what the numbers are around the world.
This means that your online store should be convenient for customers using mobile devices. Optimizing for mobile devices will make it easy for mobile buyers to purchase your products or services.
8. Create Valuable Content
Valuable and useful content helps to sell your products. Be helpful, share interesting and insightful information on your landing pages or your blog. By using this solid content marketing strategy, you can build a long-term relationship with your customers.
9. Offer Free Samples
People love free stuff. Use it as an opportunity to attract new customers and show the good quality of your products.
10. Offer a Money-Back Guarantee
Customers want to avoid a potential loss. If you can convince them that your products will not be a waste of money and that customers will be able to get a refund, you will drive more sales.
Before using these tips, make sure you have a great product or service. If you are absolutely sure, this is your cue. Start implementing these 10 ways to increase your sales conversion and you will achieve great results in the blink of an eye!